Welcome
Welcome Guest

The time now is Wed May 22, 2013 1:16 am
All times are GMT - 5 Hours
Who is Online
In total there are 27 users online :: 0 Registered, 0 Hidden and 27 Guests
Registered Users: None

Most users ever online was 2123 on Sun Aug 21, 2011 10:39 pm
Statistics
We have 271 registered users
27545259 total visitors since v2.0 launch on August 14, 2006
The newest registered user is lolo

Our users have posted a total of 2840 articles within 1836 topics
.
DesiRecipes - Free Desi recipes collection online. The most fascinating array of easy Indian, Pakistani & Desi cuisine. Videos, meals, pictures, news, tips and tricks
Recent Items (Recipes/Videos/Meals)
A cold frozen treat on a hot summery day...

Posted by Sajda.e on Sun Jan 09, 2005
Meatball sandwiches made with meatballs, marinara sauce, and any bread of your choice.

Posted by

swtmanoo

on Sun Sep 30, 2007
Homestyle noodles with pulses, yogurt and meat sauce.....

Posted by Nazia Nazar on Tue Apr 04, 2006
Cholay Bhatooray is a lip smacking dish usualy serve in parties. Spicy and tangy chick peas masala tastes great with floured puris.

Posted by

bestchefs

on Sun Jan 28, 2007
Spicy Chicken curry made with variety of spices and tomato and onion puree. Tastes great with naan or roti.

Posted by

hotline_hl

on Thu Oct 05, 2006
An Iftari Feast
From: Ramadan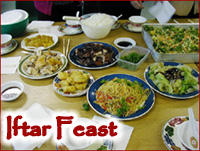 Sweet and spicy aromas coming from the kitchen ... the table set with a variety of dishes from appetizers to deserts ... everyone gathers and wait for the Azan-e-Maghrib ... and as soon as they hear the Azan, they reach for a date to Iftar. This was a scene at Iftari. As I promised, I am serving you with three main dishes for the Iftari fiesta. Enjoy!
Posted By: NawedKhan on Sun Oct 01, 2006 9:22 pm | Viewed: 30150
Recent Discussion Topics
» Recipe: Shawarma
by lolo on Thu May 09, 2013 12:30 pm

» hi im new and need help
by lolo on Thu May 09, 2013 12:24 pm

» Tip/Trick: Bad Breath?
by danahernandz on Fri Apr 26, 2013 7:32 am

» New to PakiRecipes
by HeraBunty on Mon Apr 15, 2013 9:10 am

» Nice to meet you
by allenhrogers on Mon Mar 25, 2013 6:44 pm

» Long time not here
by Mashell on Mon Feb 25, 2013 12:58 am

» Video: How To Make Tahini
by brownjett on Fri Jan 18, 2013 5:55 am

» I am new to Paki recipes
by Mubarra on Thu Jan 03, 2013 12:08 pm

» hello
by annajodi on Wed Dec 12, 2012 5:02 am

» Recipe: Sweet Bread Cutlets
by PakiRecipes_Bot on Fri Dec 07, 2012 11:38 pm