Welcome
Guest, Welcome

The time now is Sat Feb 28, 2015 2:05 pm
All times are GMT - 5 Hours
Who is Online
In total there are 18 users online :: 0 Registered, 0 Hidden and 18 Guests
Registered Users: None

Most users ever online was 2123 on Sun Aug 21, 2011 10:39 pm
Statistics
We have 283 registered users
36136019 total visitors since v2.0 launch on August 14, 2006
The newest registered user is Vorkamirror

Our users have posted a total of 2857 articles within 1825 topics
.
DesiRecipes - Free Desi recipes collection online. The most fascinating array of easy Indian, Pakistani & Desi cuisine. Videos, meals, pictures, news, tips and tricks
Recent Items (Recipes/Videos/Meals)
This plum chutney is not only delicious, its also versatile... It can be used as a dip, as a side-dish with rotis and as a sauce for vegetables! How cool is that?

Posted by Saad on Thu Jun 27, 2002
Aromatic basmati Rice With Carrots, Raisins, Spices and meat.

Posted by

maham

on Fri Nov 26, 2010
Delicious tea time snack loaded with veggies, meat and sauces.

Posted by

SumeraNawed

on Wed Jul 10, 2013
These delicious pastries are made with puff pastry with a filling of potatoes, cottage cheese and onions. The cottage cheese can be replaced with feta cheese, ricotta cheese etc.Vegetables can be replaced with minced beef or chicken.

Posted by Nikki on Fri Nov 22, 2002
Sweet saffron basmati rice cooked in sugar syrup and garnished with raisins, almonds etc.

Posted by

maham

on Sun Apr 24, 2011
Little about Biryani
From: Food Journal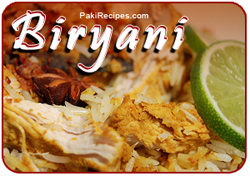 The name biryani or biriani is derived from the Persian word beryā(n) which means "fried" or "roasted". Biryani is a family of Middle Eastern, Southern Asian dishes made from a mixture of spices, rice (usually basmati), meat/vegetables and yogurt.
Posted By: NawedKhan on Wed Jun 20, 2007 2:45 pm | Viewed: 63540