Welcome
Guest, Welcome

The time now is Fri Mar 07, 2014 4:51 am
All times are GMT - 5 Hours
Who is Online
In total there are 10 users online :: 0 Registered, 0 Hidden and 10 Guests
Registered Users: None

Most users ever online was 2123 on Sun Aug 21, 2011 10:39 pm
Statistics
We have 279 registered users
31501895 total visitors since v2.0 launch on August 14, 2006
The newest registered user is lenner

Our users have posted a total of 2862 articles within 1841 topics
.
DesiRecipes - Free Desi recipes collection online. The most fascinating array of easy Indian, Pakistani & Desi cuisine. Videos, meals, pictures, news, tips and tricks
Recent Items (Recipes/Videos/Meals)
Stuffed green peppers filled with mince meat prepared in spices and green chillies.

Posted by

maham

on Tue Oct 19, 2010
A warming noodle soup recipe in which noodles simmer away in a freshly pureed tomato broth to give this soup outrageous flavor. The meatballs are simply seasoned and fried separately in oil which later gets mixed into the tomato broth to finish the soup.

Posted by Nazia Nazar on Wed Mar 22, 2006
Meatball sandwiches made with meatballs, marinara sauce, and any bread of your choice.

Posted by

swtmanoo

on Sun Sep 30, 2007
Beef marinated with flavored spices coated in egg and breadcumbs in a form of patty and shallow fried.

Posted by Nazia on Mon Feb 06, 2006
A delicious recipe Cheesesteak Pizza - Topped with beef, onions , peppers, and cheese.

Posted by

swtmanoo

on Sun Sep 30, 2007
Little about Biryani
From: Food Journal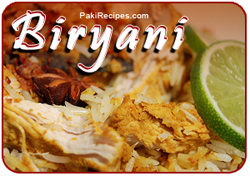 The name biryani or biriani is derived from the Persian word beryā(n) which means "fried" or "roasted". Biryani is a family of Middle Eastern, Southern Asian dishes made from a mixture of spices, rice (usually basmati), meat/vegetables and yogurt.
Posted By: NawedKhan on Wed Jun 20, 2007 2:45 pm | Viewed: 60547