Welcome
Guest, Welcome

The time now is Thu Apr 24, 2014 10:45 am
All times are GMT - 5 Hours
Who is Online
In total there are 13 users online :: 0 Registered, 0 Hidden and 13 Guests
Registered Users: None

Most users ever online was 2123 on Sun Aug 21, 2011 10:39 pm
Statistics
We have 277 registered users
31951350 total visitors since v2.0 launch on August 14, 2006
The newest registered user is Ireefu Johny

Our users have posted a total of 2854 articles within 1833 topics
.
DesiRecipes - Free Desi recipes collection online. The most fascinating array of easy Indian, Pakistani & Desi cuisine. Videos, meals, pictures, news, tips and tricks
Recent Items (Recipes/Videos/Meals)
Chick Peas and paneer salad is on the popular side dish serves in mediterranian cuisines.

Posted by Nazia Nazar on Thu Jun 22, 2006
Korma, a classic Non-vegetarian Dish is cooked in yougurt gravy. The flavor of this dish is further enhanced by using Mint and Cilantro and squeezing a dash of lime just before serving. Korma is a great accompaniment with Steamed Rice or naan.

Posted by Huma on Thu May 05, 2005
This Mutton dish is popular among those who like flavors of "exploding" spices, and meat simmered on low heat to get an exotic flavor of all the spices.

Posted by Mrs. Mavera Nadeem on Fri Dec 24, 2004
A quick and easy potato dish with the bold flavors of pickling spices.

Posted by Asma on Fri May 03, 2002
Stuffed Capsicum filled with spicy potatoes....

Posted by Nazia Nazar on Wed Mar 22, 2006
Little about Biryani
From: Food Journal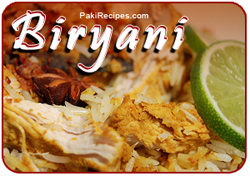 The name biryani or biriani is derived from the Persian word beryā(n) which means "fried" or "roasted". Biryani is a family of Middle Eastern, Southern Asian dishes made from a mixture of spices, rice (usually basmati), meat/vegetables and yogurt.
Posted By: NawedKhan on Wed Jun 20, 2007 2:45 pm | Viewed: 60774