Welcome
Welcome Guest

The time now is Thu Dec 05, 2013 10:23 pm
All times are GMT - 5 Hours
Who is Online
In total there are 17 users online :: 1 Registered, 0 Hidden and 16 Guests
Registered Users: vte1m8c3z7

Most users ever online was 2123 on Sun Aug 21, 2011 10:39 pm
Statistics
We have 274 registered users
30478066 total visitors since v2.0 launch on August 14, 2006
The newest registered user is ellavera125

Our users have posted a total of 2847 articles within 1830 topics
.
DesiRecipes - Free Desi recipes collection online. The most fascinating array of easy Indian, Pakistani & Desi cuisine. Videos, meals, pictures, news, tips and tricks
Recent Items (Recipes/Videos/Meals)
Baked Fish Rolls....not a bad idea good combination with chicken Chopsy, matar cutlets and tomato chutney.Beef Burger can be a good substitute for chicken Chopsy for dinner.Dont forget to try this cool drink with it.
How about Potato Kababs today??? Veg Pakoras and kababs with dates chutnee is surely different to try together but dont forget to add chana masala and dahi phulki in your menu today.Serve fruit delight in the end and hmmm...dates.
Who doesnt like pakoras!!!! this Bread Pakora recipe will be an add on to our menu of paneer Pakoras with kachori and Eggplant Dip.Fruit smoothee will work best for drink and dessert.For dinner try this yummy karahi mince recipe.
Enjoy today's menu of chicken curry, palak paneer and gobhi paratha with chutney or plain yogurt.Wanna try something light then do try this Shredded Chicken Sandwich you will love it
Enjoy today's sehri with this yummy Aloo Paratha or Spanish Omelette with whole wheat bread. french toast would be great with tea as a substitute.
An Iftari Feast
From: Ramadan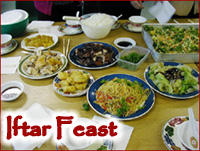 Sweet and spicy aromas coming from the kitchen ... the table set with a variety of dishes from appetizers to deserts ... everyone gathers and wait for the Azan-e-Maghrib ... and as soon as they hear the Azan, they reach for a date to Iftar. This was a scene at Iftari. As I promised, I am serving you with three main dishes for the Iftari fiesta. Enjoy!
Posted By: NawedKhan on Sun Oct 01, 2006 9:22 pm | Viewed: 32503
Recent Discussion Topics
» Tip/Trick: Dough Sticking?
by ellavera125 on Sat Nov 30, 2013 7:49 am

» Health Benefits of Ajwain
by muhammadRehan on Wed Nov 27, 2013 1:45 am

» Benifits of Lavender Oil
by muhammadRehan on Wed Nov 27, 2013 1:36 am

» Food that helps in Fat Burning
by muhammadRehan on Wed Nov 27, 2013 1:28 am

» Tip/Trick: Bad Breath?
by muhammadRehan on Mon Nov 25, 2013 1:35 am

» Tip/Trick: Sticky Garlic Skins ?
by muhammadRehan on Mon Nov 25, 2013 1:21 am

» Tip/Trick: More Lemon Juice
by Ackley on Thu Nov 21, 2013 7:06 am

» Tip/Trick: Fresh Fruits & Vegetables
by Ackley on Thu Nov 21, 2013 7:02 am

» Hi
by Ackley on Thu Nov 21, 2013 6:52 am

» The New Pakirecipes v2.0
by muhammadRehan on Thu Nov 21, 2013 1:04 am